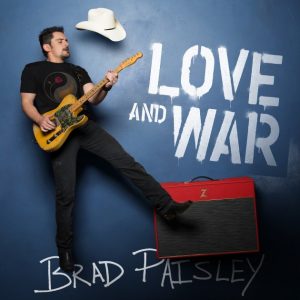 Play Brad Paisley math and win Dixie 105.7
Tickets for Brad Paisley
go on sale this Friday morning at 10 a.m. that you can win them before you can buy them.
The winning is easily simply listen chance to play Brad Paisley Math.
It's like an open book test we've given you a complete list of all the tracks on Brad's new CD Love and War.
Listen for Ray Turner to give you song titles then add those two together and give us the corresponding song title.
For instance if Ray was to say
"One beer can" …track 3
And "Drive of Shame" …track 5
3 + 5 = 8
So the corresponding title would be "Today"
The studio line is 252-441 4566
Listen for the cue to call , play Brad Paisley math and win with Dixie 105.7
Brad Paisley, Love and War Track Listing:
1. "Heaven South"
2. "Last Time for Everything"
3. "One Beer Can"
4. "Go to Bed Early"
5. "Drive of Shame"
6. "Contact High"
7. "Love and War"
8. "Today"
9. "selfie#theinternetisforever"
10. "Grey Goose Chase"
11. "Gold All Over the Ground"
12. "Dying to See Her"
13. "Solar Power Girl"
14. "The Devil Is Alive and Well"
15. "Meaning Again"
16. "Heaven South"
BRAD PAISLEY
WITH SPECIAL GUEST
DUSTIN LYNCH
CHASE BRYANT
LINDSAY ELL  SUNDAY, SEPTEMBER 10
 VETERANS UNITED HOME LOANS AMPHITHEATER AT VIRGINIA BEACH
Share and Enjoy
Tags: