July 17th: On this day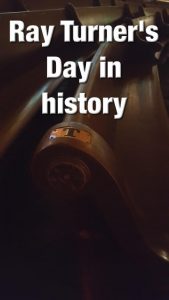 1918
Born on this day in Charleston, West Virginia was Woodrow Wilson Sovine better known as Red Sovine, the country music singer associated with truck driving songs. The most famous example is his 1976 #1 hit "Teddy Bear". He was killed on April 4, 1980 after he suffered a heart attack while driving his Ford van in Nashville, which caused him to crash.
1958
Johnny Cash recorded his final session for Sun Records, recording two tracks; "Down The Street To 301" and "I Forgot To Remember To Forget."
1964
Born on this day in Kingston Springs, Tennessee, was Craig Morgan country music singer, songwriter. A veteran of the United States Army, Morgan began his musical career in 2000 releasing his self-titled debut album. In 2005 he scored "That's What I Love About Sunday," which spent four weeks at the top of the Billboard country charts.
1972
Born on this day in Wildwood, Florida, was country music singer Elizabeth Cook who released the single "Sometimes It Takes Balls To Be A Woman" which was co-written with Melinda Schneider.
1974
Guitarist and fiddle player Don Rich, a member of Buck Owens' backing band, The Buckaroos, was killed in a motorcycle accident on State Route 99 north of Bakersfield, California, he was 32.
1975
A Russian language version of Conway Twitty's 1970 hit, "Hello Darlin'" was broadcast to a worldwide audience as part of the Apollo-Soyuz Test Project. The song, which in Russian was called "Privet Radost," was seen as a "gesture of goodwill" from the Apollo crew to the Soviet Union's Soyuz crew. Twitty had worked with a language professor from the University of Oklahoma to record the phonetic Russian version of the song.
1976
Born on this day, Luke Bryan, country singer, songwriter who began his musical career in the mid-2000s, writing songs for Travis Tritt and Billy Currington. Had the #1 singles "Rain Is a Good Thing" and "Someone Else Calling You Baby".
2000
Tim McGraw released "My Next Thirty Years" as the fifth single from McGraw's A Place in the Sun album. The song reached #1 on the Billboard Hot Country Singles & Tracks.
Share and Enjoy