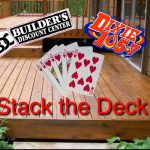 This is your chance to win a new deck package from Builders Discount Center.
Dixie 105 .7 has teamed up with Builders Discount Center for your chance to Stack The Deck and Win. Listen weekday mornings for Ray Turner to give you the queue to call and get qualified.
Stack the deck with builders discount Center and Dixie 105.7
If you would like a bonus registration simply fill out the information below. Good luck.