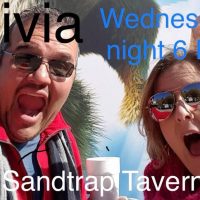 How would you like to win $100 in cash?
Wednesday night is Free trivia night at Sandtrap in Kitty Hawk North Carolina.
Registration is at 6 PM
Trivia starts at 6:30
Come grab a couple drinks, have an appetizer or dinner and play trivia!!
Hosted bye Ray Turner and The Jill
It's free family-friendly and a whole lot of fun.
Tell your friends and will see you Wednesday night at  BK Shuckers with Dixie 105 .7
Share and Enjoy
Tags: