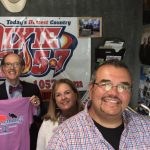 Ray and The Jill to be Grand Marshals
Dixie 105. 7 is pleased to announce that Morning Show Host, Ray Turner and Midday On-Air Personality, The Jill, will be the Grand Marshals for this year's Scuppernong River Festival happening October 13th in Columbia, North Carolina.
David L. Clegg, County Manager/County Attorney for Tyrrell County, made the announcement last week during a morning radio interview at the East Carolina Radio station, WRSF, Dixie 105.7 in Nags Head.
This will be the 26th Annual Scuppernong River Festival.  It will kick off Saturday morning at 7 AM with the Rotary Pancake Breakfast at Columbia Crossing Restaurant. The parade sponsored by First National Bank will begin at 10 AM.  There will be a Coast Guard helicopter rescue demonstration on the waterfront, a visit from Miss North Carolina and Miss Mount Holly and so much more.  There will be musical entertainment starting at noon and running throughout the day, with this year's headliners, The Original Rondels, performing not one, but two shows at 6:30pm and 8:00pm on the Courthouse Veranda. Don't miss the fireworks on the waterfront sponsored by Tyrrell County Tourism Development Authority.