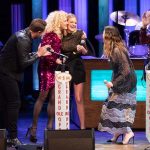 Kelsea Ballerini is About to Be the Youngest Member of The Grand Ole Opry
KELSEA BALLERINI was invited to join The Grand Ole Opry on Tuesday.  She was performing with LITTLE BIG TOWN and they snuck the invite into the lyrics of "Girl Crush".
Kelsea started off the song in the usual way, singing, "I got a girl crush, hate to admit it" . . . and then KAREN FAIRCHILD sang, "Kelsea Ballerini, do you want to join the Opry?"  That was it.  She burst into tears and there were hugs all around.
In an interview after the show she talked about walking onto the stage earlier in the day and how she "wept" after seeing the famous Opry circle.  Quote, "It's such a rich, important place in the world and in Nashville and especially in country music.
"And to be invited to play it even play it once is such an honor.  So this is a full circle of just . . . crying in the circle.  A full circle of crying in the circle."  She'll be the youngest current member when she's formally inducted in April.  (Billboard)